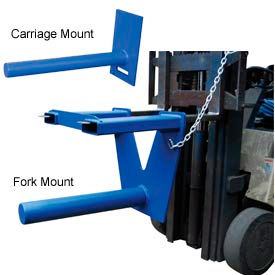 Forklift Coil Rams
Forklift Coil Rams Easily Maneuver Many Types of Coiled Materials.

Forklift Coil Rams attachments allow your forklift to handle Coils of steel and similar materials. Choice of 4-½" or 5-9/16" diameter poles to accommodate multiple core sizes. Heavy-duty welded steel construction with a durable enamel finish ensures years of service.

Carriage Mounted Coil Rams are for Class II rated trucks and feature a spring-loaded lock pin to secure it to the forklift.

Fork Mounted Coil Rams have an inverted design where the ram pole hangs under the forks. Rams feature 7-½"W x 2-½"H fork pockets on 24" centers and a safety restraint to secure it to the forklift.