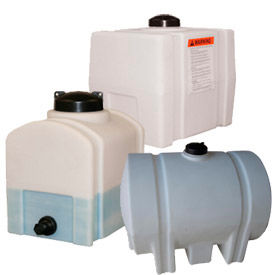 RomoTech Plastic Storage Tanks
RomoTech Plastic Storage Tanks are designed for Convenient Dispensing of Chemicals.

RomoTech Plastic Storage Tanks store water and most agricultural and industrial chemicals. Storage Tanks are constructed of all-virgin, medium-density polyethylene with ultraviolet (UV) inhibiting stabilizers for long-term outdoor storage. Tank material is also FDA approved for the storage of potable water. Plastic tank can be used to contain liquids (excluding flammable liquids / hydrocarbons) with a specific gravity of up to 1.7. Recommended maximum constant operating temperature is 140° F (molded polyethylene itself is rated for 140° F). Low profile design offers an increased safety factor and Tank walls are translucent for visible content level. Each Tank includes one 5" fill, one ¾" drain and gallon/liter graduation marks. Styles include Domed with Flat Bottom, Round with Leg Supports, and Square End with Flat Bottom. Gallon capacities range from 8 - 550. Dimensions vary per model.

Note: If a Liquid is ruled to only be stored in Glass Containers, then these Tanks should never be used to store that Liquid. Any Liquid approved to be stored in Plastic Containers would be suitable to the stored in these Tanks.