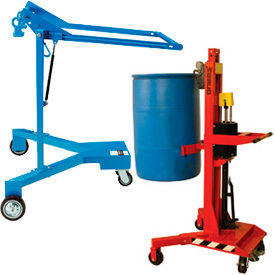 Drum Lifters & Transporters
Drum Lifters and Transporters Easily Handle and Move Heavy Duty Items Including Drums, Pallets, and more.

These Transporters have a positive clamping mechanism that grips the Drum rim for secure material handling. Ergonomic handles and smooth rolling wheels allow precise steering and mobility into work areas. Steel body construction provides lasting durability and load capacities ranging from 550 lbs. to 1500 lbs. Drum Lifter raised heights range from 6 inches off the floor to 41 inches off the floor. Other dimensions vary per model.