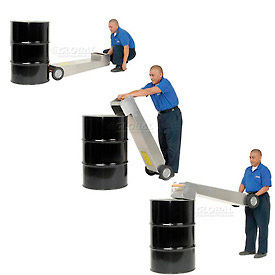 Aero® Aluminum Liquid Transfer Cart
Unique Aero® Aluminum Liquid Transfer Cart Catches Liquids that need to be transferred to Drums.

Useful for food service, automotive or industrial applications, the Aero® Aluminum Liquid Transfer Cart features a low profile 8-½" overall height that allows it to be positioned under fryers, vehicles and equipment to catch waste fluids. Liquid is dispensed into the 11-¼"L x 5-¾"W entry port, and the Cart can then be lifted and rolled like a hand truck to the Drum. Simply position the Cart next to the Drum and lift the unit using the wooden handle at its base to pour the liquid into the Drum, using the Drum for leverage. Entry port features a 6-¼"L x 4-¼"W type 304 stainless steel debris screen that can be removed for easy cleaning. Durable 1/8" thick aluminum construction for long life. Rolls easily with two 8" mold-on rubber wheels. Shipped assembled.