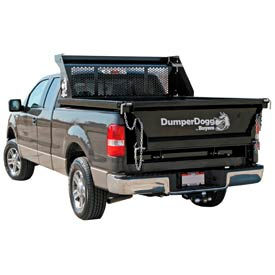 Pickup Truck Dump Inserts
Converts Your Pick-Up Truck into a Dump Truck!

These pickup truck dump inserts fit most 6' or 8' beds to offer safe, convenient carrying and dumping of cargo. Powered up and down cycles are achieved with a heavy duty 1.5 KW (3 HP max) hydraulic pump. Dump inserts feature a double pivoting removable steel tailgate and a 0 to 45° dump angle to fully unload the cargo. Standard features include manual safety bar, 20' battery power cables, tethered control box with 9' cord and "body-up" indicator kit. Payload capacity equals 6000 lbs. maximum*.

Steel Pickup Dump Insert is constructed of heavy 12 gauge steel with a structural steel frame for strength. Durable black powder coat finish resists corrosion. Stainless Steel Pickup Dump Insert features 304 stainless steel floor and front/side panels for maximum corrosion resistance. Inserts include 8 stake pockets. Optional Cab Guards, Wall Extension Bracket Kits and Tarp Kits are sold separately..

Polymer Pickup Dump Insert is constructed of a durable double-wall polymer dump body with a black powder coat structural steel frame. Come equipped with an integral Cab Guard for safety. Optional Polymer Wall Extensions and Tarp Kits are sold separately.

Optional Stainless Steel Tailgate Spreader fits all Steel, Stainless Steel and Polymer Dump Inserts for added flexibility. All stainless steel construction won't rust or corrode. 12V DC spinner (54 amp / 620 rpm) and auger (50 amp / 30 rpm / 1042 in lbs) motors spread rock salt, free-flowing granular material or chemicals from 4' to 20'. Standard features include in-cab, independent variable spinner speed / auger controls, twin 5" O.D. x 2.4" I.D. x 20" L augers, and 14" poly spinner.

*Weight Limits Not to Exceed Manufacturer's Gross Vehicle Weight Limits.