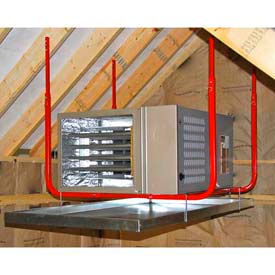 HVAC Hanging Systems
HVAC Hanging Systems Provide Safe, Secure Support For Air Handlers, Condensers And Other HVAC Components.

HVAC Hanging Systems are constructed using solid steel tubing for long lasting durability and dependability. Various types are available for stable, vibration-free installation of HVAC units and equipment. Available styles include Display Stand, Hanger Mount, Stand Unit, Swivel Mount, Mini Split Dual Fan Stand, Mini Split Stand, Pump Stand, Quick Stand, Quick Swivel and Vertical Air Handler Stand. Capacity ranges from 200 lbs. to 500 lbs. Dimensions and other specifications vary per model.