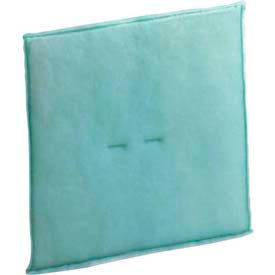 Koch Filter™ SprayStop NESHAP 3 Stage System
Koch Filter™ Paint Booth Overspray Filters And Collectors Are Used For Automotive Manufacturing And Aftermarket, Furniture Manufacturing, Appliance Manufacturing, Aerospace Industries, Contract Coaters And Other Commercial And Industrial Applications.

Koch Filter™ Paint Booth Overspray Filters And Collectors are made for long lasting durability and dependability. Various types available to provide filtering and protection from commercial and industrial paint overspray. Allow for changing pipeline direction by 45 degrees.MaxiGrid Polyester Panel Air Filter is an economical, 3-ply, UL Class 1 panel filter with self sealing design and durable steel internal support wire. Individual panels or link panels for front access holding frames or side-access housings. Used for high moisture application. SprayStop High and Super High Capacity Paint Booth Overspray Collectors are designed for applications where longer filter service life, stack protection and emissions control are desired. E-Pak 3 or 5 Pocket Paint Booth Exhaust Final Filters are designed for applications where the removal of overspray particulate, especially chromates, must adhere to NESHAP* Test Method 319 for Aerospace painting and de-painting operations. Collectors are available by panel or roll. Dimensions vary. MERV ratings available are 7, 11 and 15. Colors are White and Green.