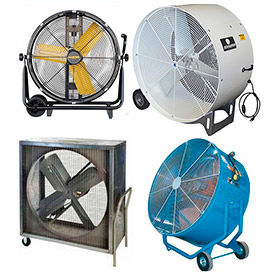 Heavy Duty Portable Blower Fans
Heavy Duty Portable Blower Fans Provide Ventilation, Air Cooling, Floor Drying, Water Damage Restoration, and Air Circulation For Warehouses, Garages, Barns, Workshops, and more.

Heavy duty portable blower fans feature steel construction for lasting durability. Units allow mobile air regulation and reliable cooling for increased worker and area comfort. Fan diameters range from 20" to 60". Horsepower ranges from 5/16 to 1. CFM Highs up to 23,500. Some models can be stacked for drying applications or heavy duty ventilation needs. Other models feature wall brackets, built-in carrying handles, fan tilt adjustments, enclosed housing, wheels for portability and more. OSHA and UL listed. Dimensions and additional specifications vary per model.