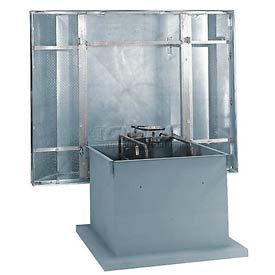 Heavy Duty All-Welded Hooded Belt Drive Roof Ventilators
Hooded Roof Ventilators Can Exhaust Or Supply Airflow With Quiet Operation.

Industrial roof ventilators provide vertical discharge using enclosed, fan cooled industrial grade motors. These roof ventilation fans are weatherproof to ensure long life. Hooded roof ventilators feature a belt driven axial fan. Aluminum hood and included OSHA-compliant bird screen keeps out unwanted rain, snow and even prevents birds from nesting. Rugged aluminum weather hoods are made with 1/8 angle iron support frame. Includes fan body and curb cap for mounting. Rolled venturi surrounds fan. Heavy duty fabricated steel propeller has four 10 gauge fan blades bolted to 1/4" thick backplate with welded taperlock hub and bushing. Heavy duty 14 gauge fan panels are welded to 10 gauge motor base. 24 Ventilators feature 1/2" schedule 40 pipe motor base supports. 36 48 Ventilators feature 3/4" schedule 40 motor base supports. 60 Ventilator has 1-1/4 schedule 40 pipe motor base supports. Single Phase Motors are field convertible from 115V to 230V. 3 Phase Motors are field convertible from 230V to 460V.

Hooded models are available with choice of Exhaust or Supply. Please denote a "T" suffix for Supply airflow.