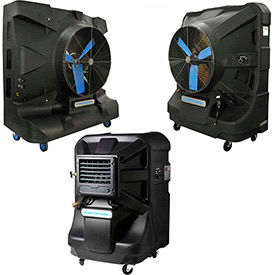 PortaCool Industrial Portable Evaporative Coolers
PortaCool Industrial Portable Evaporative Coolers Provide High Intensity Temperature Control For Large Industrial and Commercial Environments.
PortaCool industrial portable evaporative coolers promote air cooling, circulation, and optimal temperature for sewers, warehouses, factories, and more. Coolers improve work conditions for increased productivity and comfort. Energy efficient motor and contoured blade design reduces cost, improves performance, and minimizes resonance. Molded plastic construction provides corrosion resistance. Includes internal tank, dual water fill connection, and drain valve for optimum performance. Heavy duty swivel casters provide easy maneuverability. Fan diameters are
16", 24", 36", 48", and Centrifugal Air.
HPs are
1/4, 1/2, 3/4, 1-1/18, 1.2, and 2-1/3.
CFM high ranges from
2,400 to 28,500.
Tank gallon capacities range from
20 to 75.
Drive types are
Belt and Direct.
Cooling square feet ranges from
700 to 6250.
ETL and UL listed. Dimensions vary per model.
Keep workers safe and productive in hot environments: Comfort By The Numbers
You risk a 16% decrease in productivity at temperatures of 92° F and up
A 23% reduction in Reaction time occurs with 4% body fluid loss