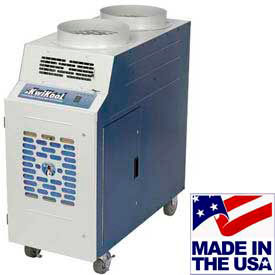 Kwikool® Industrial Portable Air Conditioners
Kwikool® Industrial Portable Air Conditioners Provide Mobile Climate Control In a Variety of Commercial, Industrial, and Professional Environments.

These air conditioners are designed for economical spot cooling in industrial plants, server rooms, greenhouses, hospitals and offices, and specifically where electrical equipment creates a heat load. Portable units allow ergonomic mobility with 4 casters, 2 swivel with brakes and 2 rigid. Includes line cord with plug for easy installation. Available systems are Air and Water. Cooling BTUs range from 13,700 to 120,000. Tons range from 1.1 to 10. Cooling square feet ranges from 400 - 4000. Speeds are 1, 2 and 3. ETL listed. CFM highs, volts, and dimensions vary per model.