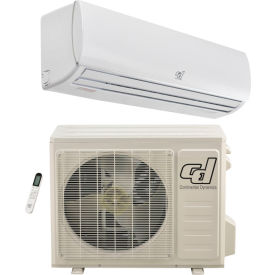 Ductless Air Conditioners High Efficiency
Ductless Air Conditioners High Efficiency Provide Energy Efficient Cooling and Heating For Residential, Commercial, Hospitality, and Other Related Environments.
These air conditioners feature a split design including an indoor evaporator unit and an outdoor condensing unit. The indoor unit includes an air inlet, front panel, air flow outlet with grille, and interior air filters to capture dirt, dust, and debris. The outdoor unit provides side and rear air inlets, outlets, and connection valves. Remote control allows convenient temperature adjustment and unit support. Installation kit included. Energy Star compliant. Cooling BTUs are
9,000, 12,000, 18,000 and 24,000.
Heating BTUs are
9,500, 12,000, 19,000 and 24,500.
CFM High options are
353, 382, 606, and 882.
SEER options are
18.0, 19.0 and 20.0.
Must be installed by a licensed contractor.
Installation Kit For Split Systems
feature 25 ft. copper tubing with insulation.
Global Units come with a 1 year in home service parts and labor warranty plus a 5 year sealed system warranty.
Protective Covers for Line Sets are Available for Purchase by Clicking the Following Link here
Additional Copper Tubing is Available for Purchase if Needed by Clicking the Following Link here