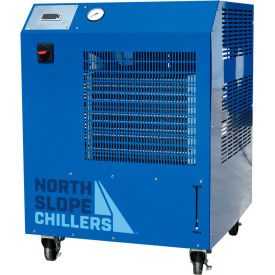 North Slope Industrial Grade Chillers
North Slope Industrial Grade Chillers Provide Temperature Controlled Cooling for Multiple Environments Including Server Rooms, Laboratories, and more.

This chiller system provides ambient temperature cooling for systems and equipment requiring safe climate conditions. The hermetically sealed compressor ensures added unit protection against dust, debris, and other airborne contaminants. The mounted casters allow convenient unit mobility and maneuverability from one location to another. The stainless steel or power coated steel cabinets ensure corrosion resistance for years of reliable service. Compact design reduces unit footprint making it ideal for small areas and environments. Available voltages include 110, 230, and 480. Cooling BTUs range from 3000 to 120,000. Additional specifications vary per model.