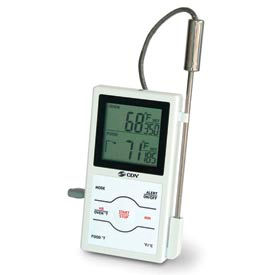 Digital Probe Thermometers
Digital Probe Thermometers Are Used For Kitchens And Food Processing Areas.

Digital Probe Thermometers are constructed with plastic, stainless steel and other high quality materials for long lasting durability. Variety of thermometer types available to meet job requirements. Individually packaged probe wipes help meet HACCP guidelines by cleaning and sanitizing thermometer probes between temperature checks avoiding cross contamination. Soft and hard carrying cases protect instruments during storage and transport. Replacement probes also available. Available in a variety of types, styles and thermometer accessories. Dimensions, temperature ranges and warranties vary per type. Finishes are Black, Blue, Red, Silver and White. Package quantity is 1.