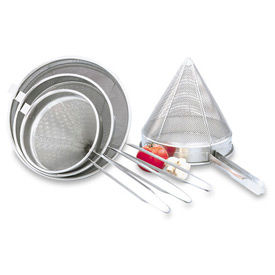 China Caps/Bouillon Strainers
China Caps And Bouillon Strainers Are Used For Straining Soups, Sauces, Purees And Other Foodservice Preparation Functions.

China Caps and Bouillon Strainers are made of stainless steel for long lasting durability and dependability. Mesh interior retains seeds and lumps to provide smooth soups and sauces. Hook to attach to pot side for hands-free draining available on some models. Available styles include Bouillon, Cap, China Cap, Coarse, Extra Fine Mesh, Fine, Granular Size, Premium Bouillon and Reinforced Bouillon Strainer. Color finish is Stainless Steel. Dimensions, capacities and quantities vary per model.