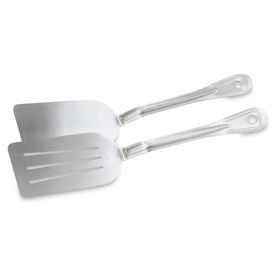 Spatulas and Turners
Spatulas and Turners Are Used For Flipping Pancakes, Icing Cakes, Maneuvering Grilled Foods, Cleaning Cooking Surfaces And Other Foodservice Applications.

Spatulas and Turners are made of stainless steel, nylon composite or carbon steel material for long lasting durability. Multiple sizes with pointed, rounded blades and solid or flexible blades provide efficient turning, spreading and scraping of contents. Lengths range from 5-1/2 to 20-3/4 inches. Dimensions and quantities vary by model.