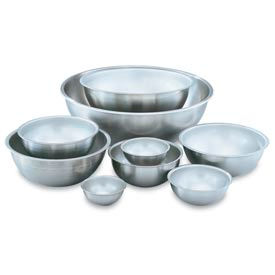 Stainless Steel Mixing Bowls
Heavy Duty Stainless Steel Mixing Bowls Are Used For A Variety Of Foodservice Handling Applications.

Heavy Duty Stainless Steel Mixing Bowls are made of corrosion resistant heavy gauge stainless steel for long lasting use, durability and dependability. Various recognized brands offer wide selection of bowls used for use in professional kitchens and other foodservice handling applications. Concave bottoms designed to sit flat on countertop. Rounded rims for easy mixing and handling. Available in wide range of 5-1/4 to 30-5/8 inch diameters with 1/2 to 80 quart capacities. Various type tubular steel Mixing Bowl Stands with tray slides and movable casters also available.