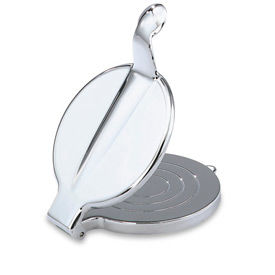 Hamburger Patty Molds
Hamburger Patty Molds Are Used For Quick Preparation Of Patties In Restaurants, Diners, Residential Kitchens And Other Foodservice Establishments.

Hamburger Patty Molds are made of rust-resistant cast aluminum and chrome-plated steel for long lasting durability. Hamburger press provides hinged top for even pressing. Rings on the base ensure uniform sizing of patties. Adjustable knob available on some models for controlling patty thickness. Available diameters are 4, 4.5, 4-3/4, 5, 6 and 7 inches. Dimensions and quantities vary per model.