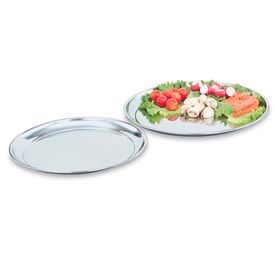 Stainless Steel & Chrome Round Trays
Stainless Steel & Chrome Round Trays Are Used Display Dishes For Buffets, Catering Events, Parties And Other Foodservice Venues.

Stainless Steel Round Trays are made of heavy duty stainless steel and chrome for long lasting durability. Trays provide decorative display of salads, fruits, desserts, snacks and more for table and countertop presentations. Serving trays won't tarnish or peel. 5-piece cooling display set also available. Available styles include Embossed, Hammered, Mirror, Muddled, Non Embossed, and Swirl Pattern. Available in Chrome Plated, Chrome Plated w/Gold Trim, Mirror Finish, Polished Finish, Stainless Steel. Dimensions and quantities vary per model.