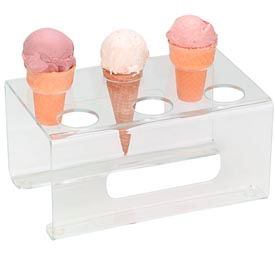 Acrylic Ice Cream Cone Holders
Acrylic Ice Cream Cone Holders Are Great For Ice Cream Parlors, Snack Bars, Cafeterias And Other Foodservice Environments.

Ice Cream Cone Holders allow easy access and neat organization of ice cream cones. Holders are made of clear acrylic plastic. Cone Stands are available in regular and waffle cone sizes with up to 9 sections. Available with or without shield. Cone Cabinets and Topping Dispensers are made with clear plastic housing to keep cones and ice cream toppings protected from food splatter or airborne contaminants. Cone holders are available from several trusted brand names.