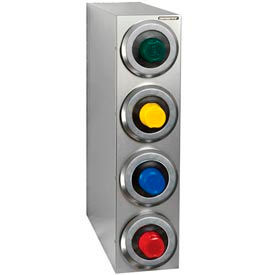 Dispense-Rite® One-Size-Fits-All Baffle Cup Dispensers
Dispense-Rite® One-Size-Fits-All Baffle Cup Dispensers Are Designed For Cups And Containers With Rim Diameters Ranging From 3 To 4-1/2 .

Every baffle cup dispenser is made from ABS plastic with a no-jam build for years of reliability. Cup dispensers feature an interchangeable silicone baffle gasket system plus a calibrated compression spring to ensure one-at-a-time dispensing of cups. Baffles may be replaced without removing dispensers from counters. An integrated mounting collar fully supports the dispenser in horizontal, vertical, or angled mounting positions. In-Counter Cup Dispensers fit directly within reach behind counters. Available in lengths of 17 , 22 and 28 . Countertop Cup Dispensers are freestanding cabinets that can hold up to four sleeves of cups. Countertop dispensers are available as a plain unit, or with built-in lid and straw organizers. Available in polystyrene or stainless steel. Polystyrene dispensers are available with a compartmented top for sugar packets, stirrers and other beverage accessories. Silver Satin Color Ring Bezels sold separately. All cup dispenser models are NSF® certified.