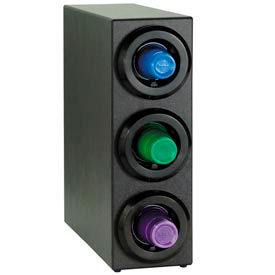 Dispense-Rite® One-Size-Fits-All Adjustable Cup Dispensers
Dispense-Rite® One-Size-Fits-All Adjustable Cup Dispensers Are Used For Cafeterias, Snack Bars, Break Rooms And More.

Cup dispensers are made from ABS plastic with a no-jam build for years of reliability. Integrated mounting collar fully supports the dispenser in horizontal, vertical, or angled mounting positions. Dispensers feature three clip adjustment mechanism combined with a calibrated compression spring that ensures one at a time dispensing. Dispenser may be adjusted without being removed from the counter. Each cup dispenser fits cups ranging from 8 oz. up to 44 oz. for versatility and convenience. In-Counter Cup Dispensers fit directly within reach behind counters. Available in lengths of 17 , 22 and 28 . Countertop Cup Dispensers are freestanding cabinets that can hold up to four sleeves of cups. Countertop dispensers are available as a plain unit, or with built-in lid and straw organizers. Available in polystyrene or stainless steel. Polystyrene dispensers are available with a compartmented top for sugar packets, stirrers and other beverage accessories. Silver Satin Color Ring Bezels sold separately. Cup holders are NSF Certified.