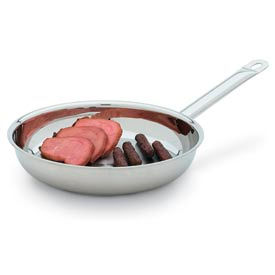 Stainless Steel Fry Pans
Stainless Steel Frying Pans Sear Meat, Sauté Vegetables, Stir Fry Dishes And More.

Stainless Steel Fry Pans are designed for long lasting durability and sturdiness to withstand repeated cooking and cleaning. Mirrored finish compliments cooked food. Rounded lip makes pouring easy and increase strength and structural integrity. Some frying pans available with silicone handles to reduce burns and injuries. Diameters range from 4" to 17-3/4" to meet commercial cooking requirements. Additional dimensions and package quantities vary by model.