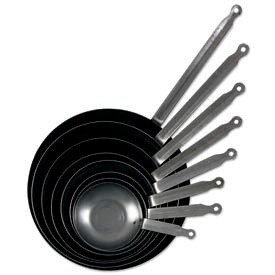 French-Style Steel Fry Pans
French-Style Steel Fry Pans Are Versatile Cookware That Goes From Stovetop To Broiler Or Oven.

French-Style Fry Pans are made of durable steel for quick heating and thorough temperature retention. Welded handles offer long lasting durability and strength. Diameters range from 6-1/4 to 16 inches. Winco brand pans are sold in quantity of 6. Alegacy and De-Buyer pans are single units. Additional dimensions vary by model.