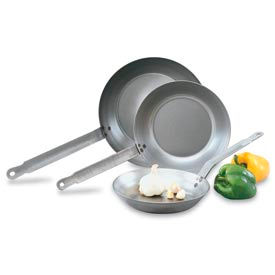 Carbon Steel Fry Pans
Carbon Steel Pans Conduct Heat Quickly And Evenly.

Carbon Steel Fry Pans are modeled in the classic French style with a permanently welded balanced handle for enhanced strength. Cookware is designed specifically for use with conduction heat. Frying pans are safe for use in ovens or under broilers. Diameters range from 4-3/4 inches to 19-5/8 inches to cook blinis, crepes, eggs, sauces, meats and more.