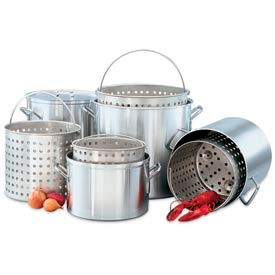 Stovetop Boilers And Fryers
Stovetop Boilers, Fryers And Steamers Are Used Cookware For Preparing Seafood, Vegetables And Other Foodservice Applications.

Stovetop Boilers, Fryers And Steamers are made of heavy gauge aluminum or stainless steel for long lasting durability and dependability. Various recognized brands offer wide selection of Steamer Baskets, Perforated Stock Pots, Fry Bottom Pots and more that are used for preparation of lobsters, mussels, vegetables and other foodservice applications. Available in wide range of 1/2 to 80 quart capacities, 5-3/8 to 22 inch diameters and 2 to 21-1/4 inch depths.