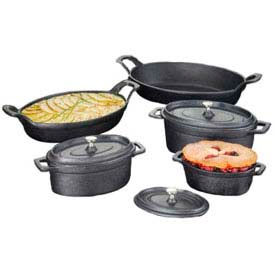 Cast Iron Baking Dishes
Baking Dishes In Versatile Shapes And Sizes Are Used For Preparation, Cooking And Serving.

Baking Dishes are solid cast iron for strength and long lasting durability in any kitchen. Mini Round Casseroles hold 17.5 oz and measure 6" L (7-1/2" with Handles) x 4" W x 2-1/2" H (3-7/8" with Lid) Fry Pan/b> holds 3.4oz, 8.5oz or 15.6oz. Baking Dish comes with or without lid in 8oz, 17oz, 18oz, 24oz, 26 oz and 27oz capacities. Baking Dish with Lid has 8oz capacity. Oval Pot with Lid holds 11oz or 17oz. Oval Casserole available in 27oz and 37oz sizes.