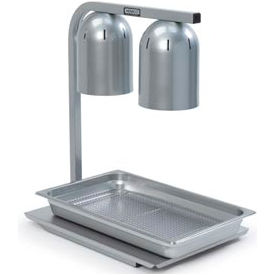 Infrared Bulb Food Warmers
Infrared Bulb Food Warmers Keep Foods Hot And Fresh In Cafeterias, Buffets, Banquet Halls And Other Foodservice Environments.

Infrared Bulb Food Warmers are manufactured from durable stainless steel and aluminum to keep operations running at peak performance for long lasting reliability. Ceiling Mounted Food Warmers feature rigid stem or flexible drop cord mounts for fixed installations. Flexible Arm Food Warmers mount directly onto counter surfaces, and adjust easily for quick placement accommodations. Suspension Bar Food Warmers sit directly on counter surfaces and have warmers arranged in a row. Freestanding Food Warmers are available with platform, with pan, or with warmer only. Carving Station Warmers include built-in slip-resistant cutting board. Dimensions vary per model.