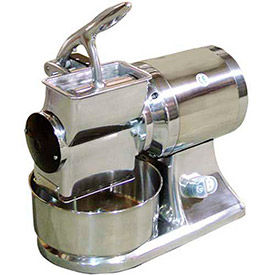 Electric Cheese Graters
Electric Cheese Graters Are Used In Commercial And Industrial Foodservice Applications To Grate Cheese In High Activity Environments.

Electric Cheese Graters have stainless steel bowls and grater drums for sanitary operation and long lasting durability. Heavy duty commercial units are industry standard for grating hard cheeses. Feeder handle interlock prevents grater from operating unless the handle is down and hopper hand guard grill provide operator safety and injury prevention. Features include Direct gear-driven motor longer, stainless steel bowl and grater drum, and heavy anodized aluminum construction. HPs are 1 and 1-1/2. Hopper opening is 3.25˝ X 5.5˝. Finish is Chrome. CE certified.