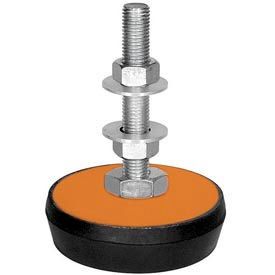 Neoprene Machinery Leveling Mounts
Neoprene Machinery Leveling Mounts Are Used For Leveling Molding Machines, Brakes, Iron Workers And More.

Stud type leveling mounts fill a need for a greater leveling range and provide as much as 2 of lift. Thick neoprene cushion resists oil, provides friction and isolates impact and vibration. Zinc-plated hardware and steel load transfer plate provide lasting durability. Upper standard nut and washer allows easy locking adjustment. Lower standard nut and washer for leveling. Long adjustment bolt passes easily through thick bases. Adjustment from below is always accessible. Available in a variety of sizes to match loads of 50 to 4000 lbs.