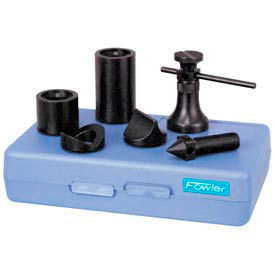 Fowler® Screw Jack Set
Fowler® Screw Jack Set Has A 1,000 Pound Capacity.

Diameter of the base of the jack is 1 1/4 inches, which includes 1-inch and 2-inch extension bases. Extension bases can be combined to extend the length. Jack set has a range of 2 1/2 to 3 1/2 inches, and includes a hardened case for storage. Set has a maximum capacity of 1,000 pounds. Color is black, and the set has a lift range of between 2 1/4 and 3 3/8 inches.