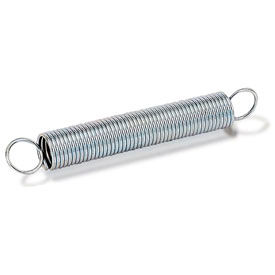 Utility Extension Springs
Utility Extension Springs Are Used For a Variety Of OEM, Eequipment Maintenance And Industrial Applications.

Utility Extension Springs are made of 302 Stainless Steel and High Carbon Drawn Steel (MBHD) to provide long lasting durability. Used for replacement parts in non-critical environments or anywhere light to medium duty springs are needed. Wire diameter ranges from 0.062" to 0.915". Outside diameter ranges from 0.13" to 0.96". Rate lbs/inch ranges from 0.14 to 24.64. OAL ranges from 1" to 8". Plain or zinc plated finish.