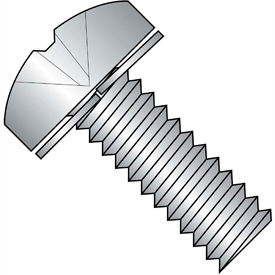 Phillips Pan Head Sems
Phillips Pan Head External Sems Machine Screws Are Used For Fastening Materials Together In A Wide Variety Of Industrial And Residential Workshop Applications.

Phillips Pan Head External Sems Machine Screws are designed for moderate to heavy-duty and residential machine shop applications. With a Phillips Pan Head, these screws are commonly used in many different projects and can be driven with a Phillips head screwdriver or drill bit. These screws come pre-assembled with external tooth washers attached to the head for increased stability and long lasting durability. Phillips Pan head External Sems Machine Screws feature several different colors and finishes for different uses. These include Zinc, Stainless Steel, Black Oxide and Zinc Yellow. They feature sizes ranging from 1/4-20 to 4-40 as well as lengths ranging from 1/4" to 1-3/4". They come fully threaded for maximum bite. Sizes, materials and lengths vary by model.