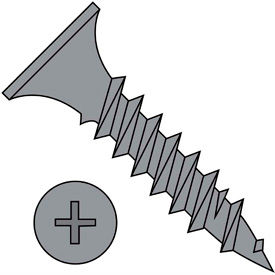 Phillips Bugle Head Drywall Screws
Phillips Bugle Head Drywall Screws Ensure Drywall Stability for Applications Including Construction, Repair, DIY, and more.

These screws are made of steel for strength and durability. Bugle head screws evenly distribute bearing stress over a wider surface area for improved fastening over flat head screws. Self-countersinking design prevents drywall surface damage. Sizes are #6, #7, #8, #9, #10, #12, and #14. Finishes are Black Phosphate, Phosphate Coated, and Zinc Yellow. Dimensions vary per model.