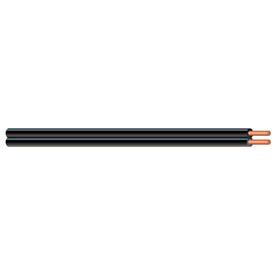 Service Parallel Lamp Cord
Service Parallel Lamp Cords Are Used For Lamps, Small Appliances, Radios, Jukeboxes And Similar Applications That Do Not Exceed 300 Volts.

Service Parallel Lamp Cords are made using bare annealed and flexible copper conductors with premium grade PVC thermoplastic insulation jacket for long lasting durability. Insulated conductors duplexed in flat construction to promote easy tear-down during installation. Temperatures not to exceed minimum -20° C or maximum 105° C. UL listed. CSA listed. NEC compliant. Wire type is Lamp cord. Colors are Brown and White. Gauge is 16. Conductors is 2. Length is 250'.