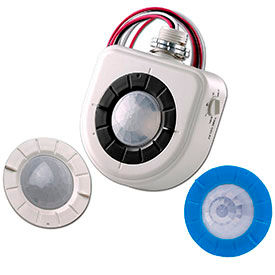 Fixture Mount Motion Sensors
Fixture Mount Motion Sensors Are Designed For High Ceiling Environments Such as Warehouses, Manufacturing Plants, and Other Elevated Applications.

These motion sensors automatically activate lighting only during periods of occupancy to improve energy efficiency and cost effectiveness. The sensors install directly to LED and fluorescent luminaires or an electrical junction box for convenience. The interchangeable lenses allow flexibility for multiple mounting height and coverage pattern requirements. The thermoplastic construction is impact and corrosion resistant making it useful for harsh working conditions. UL listed. Dimensions vary per model.