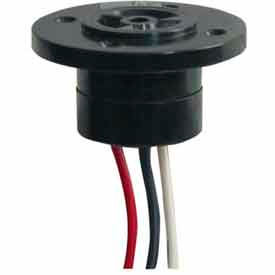 Photoelectric Control Accessories
Photoelectric Control Accessories Provide Circuit Protection For Photoelectric Applications.

Photoelectric Control Accessories are available for several applications. Shorting Caps provide a closed circuit from an upstream power source and short circuit protection for the equipment and wiring. Shorting caps may be used with all voltages. Receptacles With Plastic Housing And Mounting Bracket feature color-coded #12 leads with plastic housing and lock nut. Receptacles With Neoprene Gaskets and Receptacles With Mounting Brackets are made with color-coded #14 leads. All receptacles operate at 120V 480V.