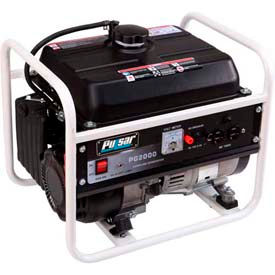 Pulsar Portable Generators
Pulsar Portable Generators Provide Convenient Mobile Power For Job Sites, Outdoor Projects, or Emergency Backup.
The Pulsar portable generators provide mobile power access where you need it most. Units are gas operated providing reliable power during blackouts and power outages. Some styles are propane powered as an alternative fuel choice to gasoline. Recoil start is standard on all models while some generators feature an additional electric push start for easy power up. Most models include a heavy-duty steel tube cradle for added strength and protection. All models are EPA approved.
Gas or propane operated
Recoil and electric push start options
Steel tube cradle
Run times range from 8.5 to 15 hours
Start options include Electric/Recoil and Recoil
Rated watts range from 900 to 9000
Tank sizes range from 1.1 to 8 or 20 lbs.
Fuel types are Diesel, Gasoline, and Gasoline/LP