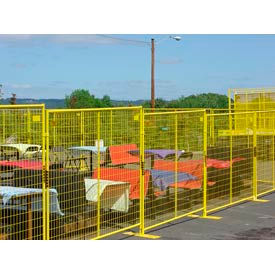 Perimeter Patrol™ Outdoor Wire Security Partitions
Perimeter Patrol™ Security Partitions Create Enclosed, Secure Spaces For Outdoor Areas.

Perimeter Patrol™ Security partitions help create wire fences that are great for limiting access to restricted areas. Framing is made of 1-1/8" diameter x 19 gauge tubular steel. All panels include two clamps attached to each panel and 24"L x 9"W steel base plates. Safety yellow base plates allow floor anchoring for permanent installation. Chain Link Panels are made of 12 gauge, powder Coated finished steel with 2-3/8" diamond openings. Chain link panels feature a horizontal support for added strength and rigidity. Welded Wire Panels are available in Galvanized, Black Powder Coat or Perimeter Patrol™ Yellow Powder Coat finishes. Wire fences are made of 8 gauge wire in 2" x 4" welded mesh pattern. Perimeter Patrol™ Panels are reinforced with a vertical 1-1/8" square tube steel support for extra strength. No Climb Panel is available in choice of Galvanized or Perimeter Patrol™ 7'5" Yellow welded wire. Panel includes 2 panels and 4 connectors. Add 1' or 2' of height; installed vertically. Wire Panel Wheel Kit converts a panel into a swing door for limited access to secure areas. Made of yellow powder coated steel for safety. Includes 20"L chain for security (lock sold separately).