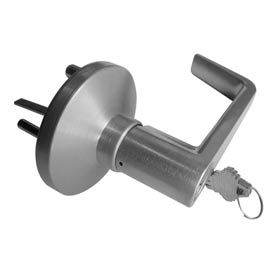 S. Parker Hardware Panic Device Accessories
S. Parker Hardware Panic Device Accessories Provide Added Functionality To Panic Doors.

Accessories add versatility and ease of use to panic doors in a variety of environments. Lever Keyed Locks provide easy handled operation for any panic device. Available in a variety of sizes and styles. Plates, VRC and Strikes sold separately. Ball Knob Keyed Locks are stainless steel and are available in Entry/Classroom or Storeroom configurations. Thumbpiece Trim x Escutcheons are handed and non-field changeable. Available in aluminum or duranodic finishes. Door Pulls fit any exit device and include cylindrical hole for lock insertion. Available in Aluminum or Duranodic finishes. Overlapping Strikes are used for pairs of doors. Made using zinc-plated wrought steel.