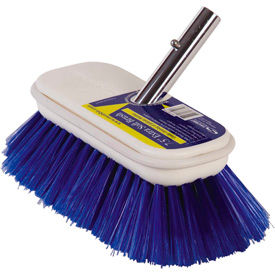 See all 9 items in product family
Swobbit Marine Brushes, Squeegees And Handles Are Used For Applications Including Maintenance, Marine And More.

Swobbit marine brushes, squeegees and handles are made of high quality materials for long lasting durability and corrosion resistance. Units accommodate various maintenance and drying applications. May be used for polished exteriors, clear coated wheels and delicate surfaces. Allows reduced drying times. Mold and mildew resistant. Available styles include Bonnet, Deluxe RV Cleaning Kit, Deluxe Watercraft Cleaning Kit, Drying Cloth, Drying Mop, Extra Soft Brush, Finger Wheel Cleaning Tool, Hand Held Squeegee Blade and more. Package quantity is 1. Color finishes are Aqua, Beige, Black, Blue, Brown, Green/Clear, Metallic and more. Dimensions vary per model.


Click for more