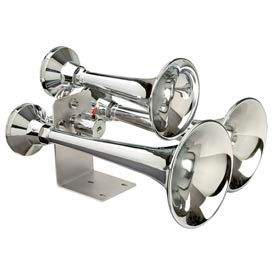 See all 21 items in product family
Truck Horns Provide Heavy Vehicles With A Loud Device To Alert Other Drivers.

Truck horns can be piped through the compressed air brake system of the vehicle. Cannon Ball Express Truck Horns™ Electric Solenoid are ultra powerful horns constructed of three triple chrome plated trumpets. Available in 12- and 24-volt electric solenoid, including a lanyard-operated model.Challenger™ DD Roof Mount Air Horn can withstand extreme weather, providing years of dependable service. Siberian ExpressModels give any truck the powerful sound of a train air horn.


Click for more