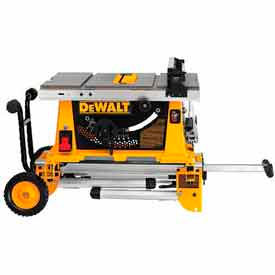 See all 2 items in product family
Portable Table Saws Are Used For Applications Including Construction, Carpentry, Manufacturing, And More.

Portable table saws are made of high quality materials for long lasting durability and dependability. Saws provide cutting precision and efficiency for jobsites, workshops, garages, and more. High-torque motors cut pressure-treated lumber, hardwoods, and other materials. Most models include rack and pinion fence rails for accurate fence adjustments. Optional features include scroll saw stand and work light. Available types include Compact w/ Site-Pro Modular Guarding System, Contractor Saw w/ Stand, Cordless Portable Table Saw- Kit or Saw Only, Job Site w/ Scissor Stand, Jobsite w/ Guard Detect/Rolling Stand, Jobsite w/ Rolling Stand, Jobsite w/ Stand Portable Table Saw, and more. Rip capacities range from 18" to 32-1/2". Blade diameters are 8-1/4" and 10". Dimensions vary per model.


Click for more