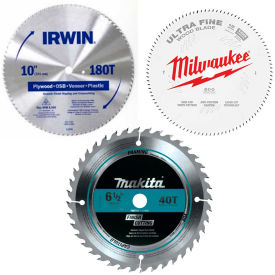 See all 3 items in product family
Milwaukee® Circular Saw Blades provide Straight, Burr-Free Cuts For Construction Applications.

Milwaukee® Circular Saw Blades are made with carbide, aluminum, and steel for long lasting durability and strength. Circular blades provide straight, accurate, burr-free cuts for user convenience. Dry cut carbide tip blades are designed to cut ferrous materials including pipe, angle iron, metal studs, and conduits. High speed steel blades are designed to cut plywood and paneling. Dry cut cermet tipped blades cut ferrous materials and are designed for longer life and wear resistance. Features vibration damping to reduce heat, sparks, and noise. Available saw types include Dry Cut Carbide Tipped, Dry Cut Cermet Tipped, Ferrous, Non-Ferrous, and High-Speed Steel Blades. Available teeth counts range from 18 to 140. Dimensions and quantities vary per model.


Click for more