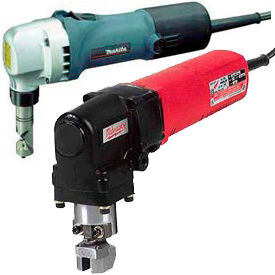 See all 2 items in product family
Power Nibblers Have Rotating Head To Change Cut Direction Easily.

Power Nibblers have a 3.0 Amp and all ball-bearing motor to prpvide long lasting durability. Round punch allows 360° pivot while cutting and rotating head allows changing cutting directions to provide versatality. Changing punch and die is easy. Paddle switch provides convenient one-handed operation. Gear case is made of strong aluminum alloy for maximum durability. Available standard and profile styles include Cordless Nibbler, Nibbler and Profile Nibbler in Kit and Bare Tool styles. Capacities are 10, 14 and 16 gauge. Amps and speed vary per style.


Click for more