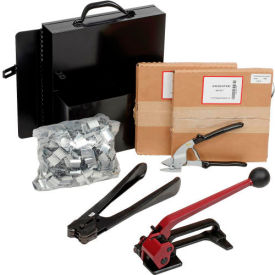 See all 6 items in product family
Portable And Compact Steel Strapping Kit is Used For Use At Remote Job Sites.

All your strapping needs are in this convenient and reusable heavy-duty steel case dispenser for holding strapping, seals and tools. Kit includes: two 200 ft. coils of .020" thick steel strapping available in three different widths, 500 seals, a heavy-duty feed-wheel tensioner, a sealing tool and a steel strap cutter.
Click for more