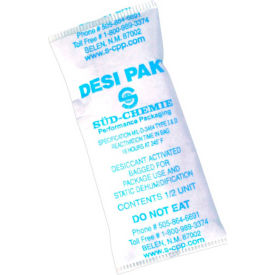 See all 13 items in product family
Desiccant Clay Packs Are Designed To Absorb Moisture For Most Industrial Applications Requiring Humidity Control.

Desiccant Clay packs are constructed with sewn cloth or Tyvek bags for long lasting durability. Clay packaging absorbers provide the most economical of all desiccants and are highly effective within normal temperature and relative humidity ranges. Absorbs up to 30% of its weight in water vapor at 77°F (25°C) and 80% relative humidity. Shows no apparent change in size, shape, or texture of desiccant at full capacity. Tyvek with silicon dioxide models can be reactivated by oven drying for reuse. Package quantities are 30/Drum, 150/Drum, 300/Pail, 300/Drum, 450/Case, 500/Drum, 550/Pail, 700/Case, 800/Drum, and 1300/Drum. Color is White. Dimensions and weights vary per model.


Click for more