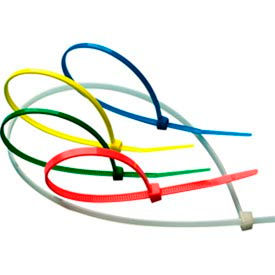 See all 16 items in product family
Cable Ties are General Purpose Ties that Permanently Secure Bags, Cords, Cables, and other Packaging Needs.

Cable Ties have tensile strengths ranging from 18 lbs. to 175 lbs. to handle a variety of packaging jobs. Cable ties are tamper proof and designed to lock tight. Ties will not stretch or slide so they stay in place when secured. Types are Resealable UL Recognized Cable Tie, UL Recognized Cable Tie, and UV Cable Tie UL Recognized, and Variety Pack. Colors are Black, Blue, Brown, Gray, Green, Natural, Orange, Purple, Red, and Yellow. Widths range from 0.009 to 0.35. Lengths range from 1/8 to 48. Package quantities range from 50-2000.


Click for more