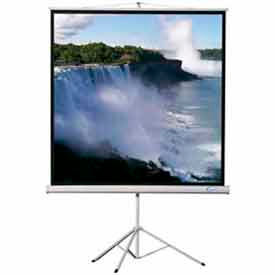 See all 7 items in product family
Heavy Duty Projector Screens Are Used For Computer, Video, Slide, And Overhead Projection In The Office Or The Classroom.

Heavy Duty Projector Screens are lightweight, portable and set up easily on the folding tripod base. Special features include a keystone eliminator which tilts screen to ensure image is projected evenly and appears without distortion. Screen is durable, flame retardant, and mildew resistant with excellent reflectivity making it a great choice when ambient light is controllable. Distributes light over a wide viewing area while colors remain bright and true. Screen cleans with mild soap and water. Square format, Free standing mount Available in a variety of sizes.


Click for more