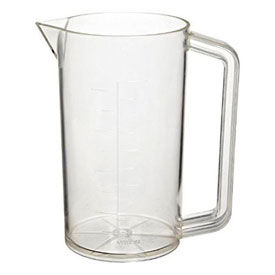 See all 5 items in product family
Nalgene™ Lab Beakers Safely Handles Acids, Alkalis And Hot Solutions For Medical and Laboratory Use.

Nalgene™ Lab Beakers are made of HDPE to provide long lasting durability. Extra-heavy wall and a sturdy rectangular handle provides reliable support and dispensing control. Graduated Beaker w/Handle is molded in graduation in both oz. so mL won't wear off with continuous use or washings. Molded in rectangular handle provides easy, safe handling and pouring. Excellent chemical resistance makes these usable for a wide range of solutions. Color is Natural. Capacity is 30000ml. Note: Not for use on hot plates.


Click for more